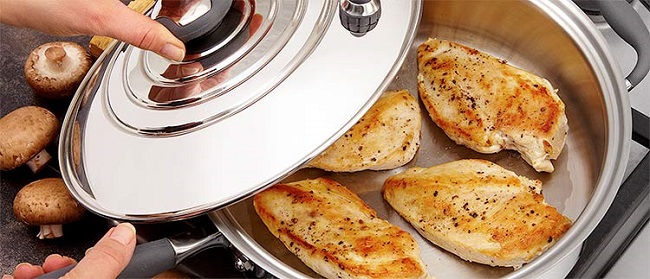 The following interview with Kitchen Charm representatives can help shed some light on how to best use and care for your cookware investment.
Q: We've been looking forward to this interview for some time. Kitchen Charm has made quite a name for itself.
Kitchen Charm: Our company has been around for more than three decades; you can't get that far without earning a great reputation.
Q: You have a point there. We would like to discuss things that make Kitchen Charm cookware different and how to best care for these pots and pans.
Kitchen Charm: That's no problem. We'll be happy to answer any questions you might have.
Q: We understand Kitchen Charm cookware allows home chefs to cook at different temperatures than traditional pots and pans. Can you explain?
Kitchen Charm: Our system allows you to cook your food the minimum moisture method. That means you can use a lower temperature. This locks in nutrients and lets you get the most flavor out of each bite.
Q: Is Kitchen Charm cookware more effective on gas or electric ranges?
Kitchen Charm: Our system was designed to work with all modern cooking technology. If you're using gas, watch the flame and make sure it doesn't flare up along the side of the pan.
Q: What causes yellowing on stainless steel pots and pans?
Kitchen Charm: When exposed to excessive heat, most metals, including those used in our cookware, may present with a yellow, blue, bronze, or rainbow tint. This discoloration is harmless but is easy to remove.
Q: How?
Kitchen Charm: We recommend using Bar Keepers Friend or a other non-abrasive stainless steel cleaner. Simply dab a damp paper towel into the cleanser and rub gently in a circular motion.
Q: Is Kitchen Charm cookware oven safe?
Kitchen Charm: Yes, up to 400°F. It is not microwave or broiler safe, however.
Q: What is the appropriate method of using the cover while cooking?
Kitchen Charm: Always choose a cover made for your specific pan and use a pan that's the right size the amount of food you're cooking. Your pans shouldn't be filled more than 2/3 of the way full for optimum performance.
Q: Do the covers clamp onto the cookware?
Kitchen Charm: No, but our covers do create a vapor seal to lock in the nutrients.  
Q: How should I repair a loose handle?
Kitchen Charm: Using your cookware creates friction, which, over time, can slightly loosen handles. A 14 mm socket wrench is the only thing you need to tighten a loose handle. Damaged handles should be reported to the warranty service department for replacement.
Q: How can I avoid scratches on my new cookware?
Kitchen Charm: Kitchen Charm cookware is made of a high-quality, impact bonded stainless steel, which will scratch if handled incorrectly. Avoid using sharp knives or kitchen utensils and don't use an electric mixer in your cookware.