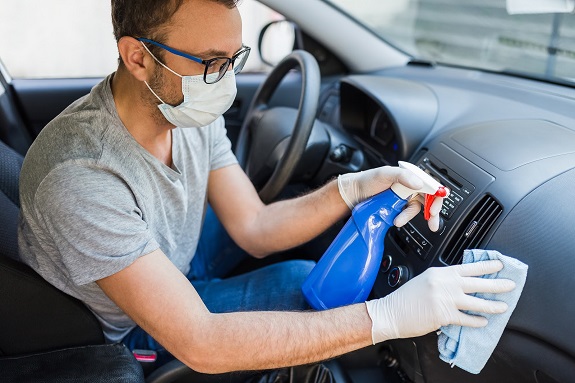 While the coronavirus pandemic has prompted people to work from home, they still need to drive every now and then to do their errands. Essential employees also have to commute to work daily. During this time, staying safe and healthy means disinfecting areas and things we come in contact with, and that includes your car.
A BMW service center in Nashville, GPO Tuning shares tips on how to disinfect your car thoroughly.
Here's a checklist of car surfaces to clean and disinfect
When a person with coronavirus coughs or exhales, tiny droplets are released and could land on surfaces. The coronavirus can live on surfaces for a few hours to up to several days depending on factors such as the type of surface, temperature, and humidity. The virus can spread when people touch contaminated surfaces and then touch their eyes, nose, or mouth. 
To reduce the risk of coronavirus infection, Nashville-based BMW service center GPO Tuning recommends disinfecting car surfaces regularly. Focus on frequently touched areas such as:
Steering wheel

Key and remote fob

Exterior door handles

Trunk lid

Interior door panels

Start button, if your car has one

Dashboard

Audio systems

Touchscreens

Rearview mirror

HVAC vents

Gear shifter

Turn signal lever

Windshield wiper controls

Center stack knobs

Center console and armrests

Seats

Seat belt and buckle

Headrests

Cup holders

Parking brake
Hard, non-porous surfaces such as armrests, door handles, seat belt buckles, light and air controls, doors, windows, and grab handles can be cleaned with soap and water before applying a disinfectant. Soft, porous surfaces such as fabric seats should be cleaned with products formulated specifically for the material. Electronic touchscreens are sensitive and should be cleaned and disinfected following the manufacturer's instructions.
Here's a list of disinfectants considered by the US Environmental Protection Agency (EPA) as effective against the coronavirus. Always read the label and follow the manufacturer's instructions for concentration, application method, and contact time for all cleaning and disinfection products. Do wear gloves while disinfecting your car, and try to do so in a well-ventilated area.
Just as important as keeping your car coronavirus-free is making sure it's safe to drive. While regular car maintenance is easy to overlook, it's one of the most important things you can do for your vehicle. Ignoring maintenance can end up costing you more in the long run. If your BMW needs more than just a thorough disinfection, schedule an appointment with GPO Tuning, a  BMW service center in Nashville. Their team of technicians provides a mix of factory training, ASE certifications, technical school training, and have over 100 years of combined experience, making sure your vehicle is in excellent condition.  
As an essential service provider for transportation, GPO Tuning is open for business. Get in touch with them today to book an appointment.
German Performance Options (GPO Tuning) is Nashville's most trusted independent BMW service center. Call 615.248.9466 to speak to one of their service advisors.