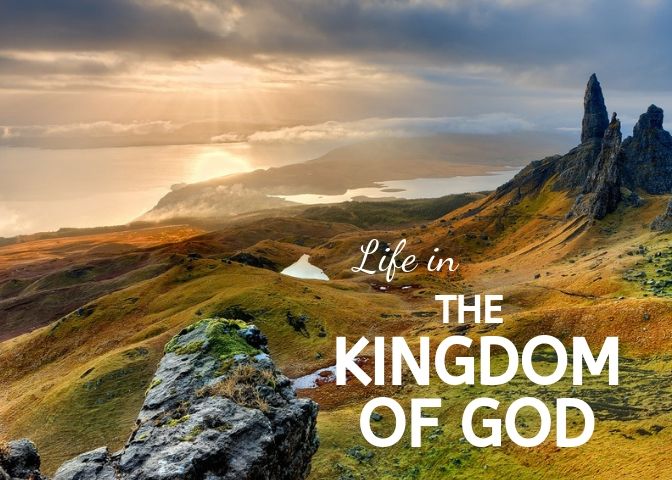 Q&A Interview on the Kingdom of God with United Faith Church in Barnegat NJ – United Faith Church is led by Pastors Jerry and Janeth Santiago.
1. What is the Kingdom of God?
The Kingdom of God is the greatest, most powerful entity that ever was, is, and will be. The Bible refers to God's Kingdom as the "Kingdom of Heaven," the "Kingdom of Christ," and the "Kingdom of God," and they are all one and the same, describing an eternal, spiritual Kingdom that rules over all other kingdoms, powers, and governments- past, present, and future. We know from scripture that God the Father gave all authority over the heavens and earth into the hands of His beloved Son, Jesus Christ (Matthew 11:27, John 3:35). The Kingdom of God operates according to God's ways, God's timing, and God's promises. It is unseen, yet governs over all that is visible, and those who find it truly find the "pearl of great worth" (Matthew 13:46).
2. Where is the Kingdom of God?
Is God's Kingdom in Heaven? Is it here on earth? Can it be found in the hearts of men? Yes, yes, and yes. The Son, Jesus Christ, is seated at the right hand of the Father in Heaven, and the Holy Spirit has been sent to the earth to dwell in the hearts of men. The Bible states that Heaven is God's throne and the earth is His footstool (Isaiah 66:1). EVERYTHING, EVERYWHERE belongs to God and is subject to Him. Therefore, God's Kingdom can be experienced right here on earth, right now. This is why we pray, Thy Kingdom come, thy will be done on earth as it is in Heaven (Matthew 6:10). When Jesus was asked when the Kingdom would come, he responded, "The kingdom of God does not come with observation; nor will they say, 'See here!' or 'See there!' For indeed, the kingdom of God is within you" (Luke 17:20-21).
3. Why does Jesus use parables to describe the Kingdom?
It is difficult for our finite minds to grasp God. Jesus often used parables to help people envision just how immense, how powerful, and how miraculous the Kingdom of God truly is. The parables give clues into the characteristics, rules, promises, and eternal blessings of this supernatural Kingdom. For example, He speaks of it being a "hidden treasure," that a man would seek out, spend everything he had to attain, and then boast about it to everyone he knows. Other parables speak of the righteous being separated from the evil in the end times, indicating that the Kingdom of God ultimately has the final say.
4. Who lives in the Kingdom of God?
The Kingdom of God is for those to whom God reveals it. Jesus told Nicodemus in John 3, "Very truly I tell you, no one can see the kingdom of God unless they are born again." God is Spirit- His Kingdom is a spiritual Kingdom. Jesus states that to be born again is to be birthed by the Holy Spirit. As the chapter continues, John states that whoever lives by the truth comes into the light of God. Jesus is the Truth, He is the Light, and He is the Way to the Father. Those who have been born again by the Holy Spirit, through Jesus Christ, enter into the light, which is the presence of God. They trust and obey God because they can see His light, and it transforms them daily into His image. They see what the world can't. They see God's triumphant Kingdom.
5. How is the Kingdom of God different from the world?
The Kingdom of God is strikingly opposite of how the world works in the most incredible ways. When men tried to put the world's rules and regulations on Jesus, he confounded them with God's ways every time. When the Pharisees asked, "Doesn't your teacher pay temple tax?" Jesus first pointed out the injustice of their ways, then demonstrated the Kingdom's power over not only all the money in the world, but over nature itself when he sent a disciple to catch a fish and pull a coin from its mouth in order to pay the tax. On the verge of execution, when Pontius Pilate thought he had the power to decide Jesus' fate, Jesus corrected him stating, "You would have no power over me if it were not given to you from above." And of course we know the rest of the story… not even death, hell, or the grave could keep Jesus from rising victoriously. Those in God's kingdom know that He is in charge of their lives no matter what trouble is happening in the world… that everything they have belongs to God… that their very lives are for Him, to serve Him and do His works. Pastors Jerry and Janeth Santiago have witnessed the power of the Kingdom of God through many miracles in the lives of their family and many others in United Faith Church.
6. What does it mean to be Kingdom-minded?
To be Kingdom-minded is to walk in the light in the midst of a dark world. To be in the light means to always be aware of God's presence, seeing what He's doing, hearing what He's saying, seeking Him, following His leading, and forever worshiping and thanking Him for His goodness in everything. The Kingdom-minded view trouble in their lives as an opportunity for God to stretch them and grow them to be more like Jesus. They have the mind of Christ- always moving and growing from glory to glory, in obedience to God, the Father. United Faith Church has seen through Pastors Jerry and Janeth Santiago's lives the great value in setting their minds on things above (Colossians 2:3). When our minds are set on God, the supernatural is possible; no matter what the situation or circumstance may be… God is faithful.
7. How do I know I'm living in God's Kingdom?
A simple test can indicate very quickly if we are living in God's Kingdom, and it is found in Matthew 6:33: "But seek first the kingdom of God and his righteousness, and all these things will be added to you." For all who are living for the Kingdom of God, this is their vision for life and can be seen in everything they do. Their hearts race, their minds contemplate, and their bodies move swiftly for all things God! No longer are they preoccupied with the worries, cares, and attractions of this life on earth because those living for the Kingdom know that this world is not their home and will pass away. They are working to influence this world through the transforming power of God as they live to store up eternal treasures in Heaven, where their lives actually begin as they are united with their Father and with one another.
8. What are the benefits of living in the Kingdom of God?
Everyone wants to be around a winner. Those who live in the Kingdom rest assured that God's Team is the winning team. This is what Paul meant when he said in Romans 8:31, "If God is for us, who can be against us?" In the Kingdom of God, God is king and he reigns in truth, justice, and mercy. Those who live in his kingdom reap the endless benefits of coming to know the Creator of the Universe. They do not need to worry about what they will eat, drink, or wear because God is the provider of everything they might need (Matthew 6). The ultimate benefit of living in the Kingdom of God is the great reward of being connected to Jesus. In God's Kingdom there is light to see clearly the path to knowing Him and any traps or stumbling blocks that try to get in the way. The King is on their side and nothing is more powerful. They run to Him in danger, and He fights their battles and wins! Those in God's Kingdom know His goodness, faithfulness, and power over all things. Their Daddy is ALWAYS bigger.
In God's Kingdom, there is endless provision, blessings, favor, healing, restoration, power, love, and joy. United Faith Church has learned from Pastor Janeth Santiago and her family that the Kingdom of God is steadfast and sure, and when everything in the world fades away, God's Kingdom will remain. The Kingdom of God endures forever and, therefore, the benefits are endless for those who trust and obey their God, who is King over all.
United Faith Church is led by Pastors Jerry and Janeth Santiago. For more info and articles, please visit www.unitedfaithchurch.org