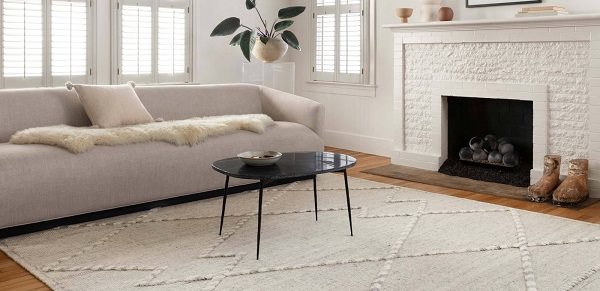 There's more to a rug than its colors, patterns, or textures. A great rug helps ground furniture and define a space. It also protects floors from scuff marks, absorbs noise, and provides plush padding underfoot.
If you're looking for a new rug and are looking for interior design services in Nashville, a visit to The Linen Duck (located in Columbia, just 40 minutes south of Nashville) is always a good idea. Here are a few of their rug shopping tips: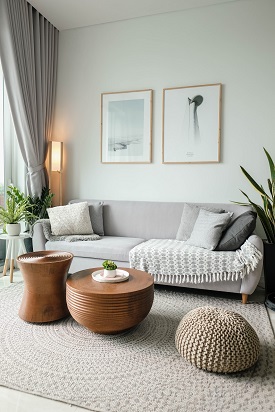 Get the right size
The right rug size depends on several factors: the room's dimensions, the furniture in it, the function of the space, and the look you're trying to achieve. 
For the living area, the rug should be centered under the coffee table and selected with the furniture arrangement in mind. Living room rugs usually range from 5'x8' to 9'x12'.
For the dining room, always choose a rug that's bigger than your table. To get the ideal size, a simple rule of thumb is to add 36 inches to both the length and width of your table (or 36 inches to the diameter if it's a round table).
When choosing a rug for the bedroom, give your feet a soft surface to walk on and go for a rug that's 18 to 24 inches beyond each side of the bed. 
A common mistake in interior design is buying a rug that's too small. When in doubt, go for the larger option. The rug's size could spell the difference between a space that looks haphazardly put together and a thoughtfully decorated one.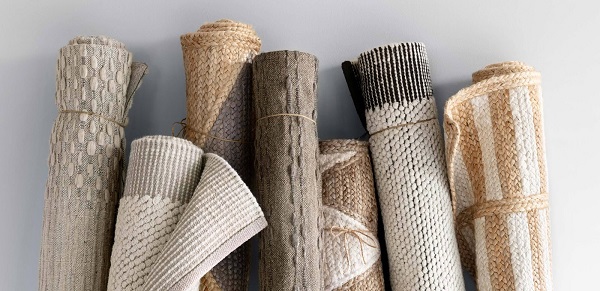 Know your rug materials
Wool rugs are durable, affordable, and naturally stain-resistant. These rugs also retain heat, which would be perfect cold winter months. On the other hand, wool rugs have a tendency to shed and might need regular vacuuming. 
Cotton rugs are low maintenance and easy to clean. These rugs are less likely to shed than wool rugs but are less durable. Cotton rugs are machine-washable and are an ideal choice for spill-prone areas such as the kitchen.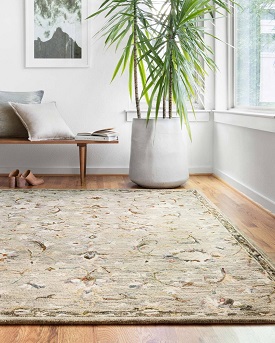 Silk rugs are soft and luxurious, making them a great choice for the bedroom. On the other hand, these are delicate and can be expensive, not to mention difficult to clean and maintain for high-traffic areas.
Eco-friendly natural fiber rugs are often braided and are made from materials such as jute, bamboo, or seagrass.  These rugs are best used in relatively dry rooms where it's less likely to be dirty since these rugs are difficult to clean.
Stain and fade-resistant, durable synthetic fiber rugs are suitable for functional areas like entryways, hallways, or patios.
Consider the overall look of your space
Choose a rug that complements your room's décor. A patterned or colorful rug will complement rooms with a muted color palette. Colorful rooms will benefit from the visual contrast a neutral rug provides.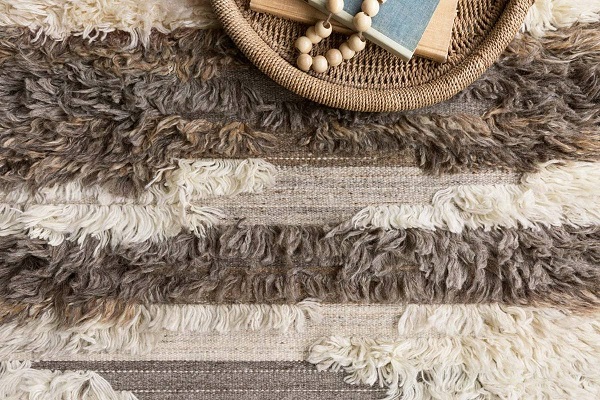 Take care of your rug
Always read the care instructions on the rug's label to make sure you're cleaning it correctly. Spot clean stains right away, and turn your rug 180 degrees every so often to prevent certain areas from being more faded and worn out than the rest. 
The Linen Duck's interior design center has hundreds of sample options to choose from. Special orders usually arrive within a week. Learn more about rugs from our online guide or visit us in the store.
The Linen Duck offers interior design services in Columbia, TN, just south of Nashville. They are open Monday to Saturday from 10 am to 5 pm and on Sunday from 11 am to 3 pm. Call (931) 548-2422 or visit their website to learn more.